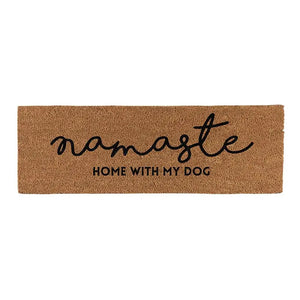 "Namaste Home With My Dog" Door Mat
Introducing our charming and heartwarming Door Mat that proudly declares "Namaste Home With My Dog." This delightful mat is not only a stylish addition to your home decor but also a perfect way to showcase your love and devotion to your furry friend.

Crafted with premium quality materials, our Door Mat is designed to withstand daily wear and tear, ensuring long-lasting durability. Measuring 30"x10", it is an ideal size for any entryway, porch, or patio, welcoming both you and your guests with its inviting message.

The vibrant and eye-catching design features the words "Namaste Home With My Dog" in a beautiful font, surrounded by adorable paw prints. The mat's neutral background effortlessly complements any interior or exterior color scheme, seamlessly blending into your existing decor.

Aside from its aesthetic appeal, this Door Mat also boasts functional qualities. The textured surface helps to scrape off dirt, debris, and moisture from shoes, keeping your floors clean and preventing slips. Its non-slip backing ensures stability, even on slippery surfaces, providing added safety for you and your four-legged companion.

Easy to clean and maintain, simply shake off any loose dirt or hose it down for a thorough clean. Our Door Mat is resistant to fading, ensuring that its vibrant colors stay intact, even with frequent use.

Whether you're a proud dog parent or looking for a thoughtful gift for a fellow dog lover, our "Namaste Home With My Dog" Door Mat is the perfect choice. Add a touch of personality and warmth to your home while showcasing your love for your furry best friend.