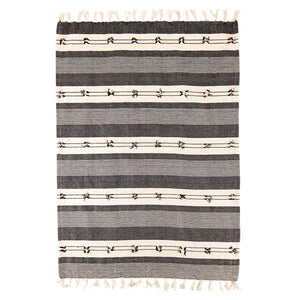 Tea Towel-Black/Natural
Introducing our Black & Cream Tea Towel, the perfect addition to your kitchen essentials. This tea towel is not only functional but also adds a touch of elegance to your home decor.

Measuring 28 inches by 18 inches, this tea towel is generously sized to handle all your kitchen tasks with ease. Whether you're drying dishes, wiping spills, or protecting your countertops, this tea towel has got you covered.

Crafted from high-quality, durable fabric, this tea towel is designed to withstand daily use and frequent washing. The black and cream color combination adds a classic and timeless appeal to any kitchen style, making it a versatile choice for both modern and traditional homes.

Not only does this tea towel excel in functionality, but it also doubles as a stylish accessory. The black and cream design instantly elevates your kitchen decor, adding a touch of sophistication to your space. Hang it on your oven handle or display it on a towel rack to enhance the overall aesthetic of your kitchen.

This tea towel is not limited to kitchen use only. Its versatility makes it a great option for other tasks as well. Use it as a hand towel in your bathroom or as a decorative accent in your dining room. The possibilities are endless.

Upgrade your kitchen essentials with our Black & Cream Tea Towel. With its perfect size, durability, and elegant design, it is sure to become your go-to tea towel for all your kitchen needs.