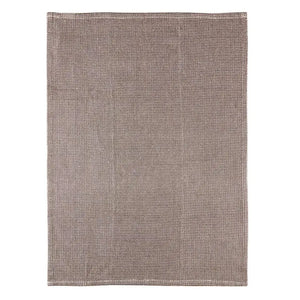 Tea Towel-Textured Grey
The Textured Grey tea towel is a stylish and functional addition to any kitchen. Measuring 28 inches by 18 inches, this tea towel is the perfect size for drying dishes, wiping countertops, or handling hot pots and pans.

The towel features a beautiful textured grey design that adds a touch of elegance to your kitchen decor. The textured pattern not only enhances the towel's visual appeal but also provides extra absorbency, making it highly effective at drying dishes and absorbing spills.

Made from high-quality materials, the Textured Grey tea towel is durable and long-lasting. It is designed to withstand frequent use and regular washing without losing its shape or color. The soft and gentle texture of the fabric ensures that it won't scratch delicate surfaces, making it safe to use on your favorite glassware or fine china.

This tea towel is not only practical but also versatile. Its neutral grey color complements any kitchen style or color scheme, making it a versatile choice for both modern and traditional kitchens. Whether you're hosting a dinner party or simply preparing a family meal, this tea towel is a must-have kitchen accessory.

In addition to its functionality, the Textured Grey tea towel is also a great gift idea. Its elegant design and high-quality construction make it a thoughtful and practical gift for housewarmings, weddings, or any special occasion.

Upgrade your kitchen essentials with the Textured Grey tea towel. Its stylish design, superior absorbency, and durability make it the perfect choice for any kitchen.